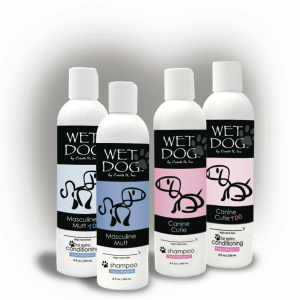 Create It, Inc has introduced a new line of luxury dog grooming products that take a holistic approach to keeping your best friend happy, healthy and beautiful. Each product contains natural ingredients and is free of sulfates, parabens, wheat/gluten, peanut oil, sunflower oil, dyes and other potentially harmful chemicals.
Create It, Inc's WET DOG line is made in the United States with botanical ingredients sourced from around the world. The products are PH balanced specifically for dogs and scented with flower extracts and custom-blended essential oils that provide them with soothing aromatherapy. Every ingredient is thoroughly researched by the cosmetologists that founded the company and a master chemist with over 50 years of experience.
"Our at-home grooming system is intended to benefit a dog's mind, body and spirit," says Create It, Inc co-founder Jodi Josephson. "The blends of oils, extracts and flower essences naturally calm and soothe the dog emotionally; they help to restore a healthy balance to the skin and coat while leaving a healthy shine."
Wet Dog products are preferred and sold by It's Training Cats and Dogs, LLC where pet trainer Abby Hartman appreciates Create It, Inc.'s consideration for dogs and pet behavior by reducing the scent and including flower essences, while also allowing only for the gentlest of ingredients and demonstrating environmental and social responsibility.
The at-home grooming system consists of Masculine Mutt and Canine Cutie shampoos that contain natural flower extracts and oils that are known to relax and calm your pet while gently cleansing, brightening their coat and delivering key vitamins, nutrients and UVA/UVB protection to the skin and coat. Step two of the system consists of Masculine Mutt TOO and Canine Cutie TOO conditioning treatments designed to detangle the coat, provide UVA/UVB sun protection and relax your pet with natural flower extracts and oils.
The company extends its belief in preserving our environment by packaging products in eco-friendly PCR bottles made from sustainable materials and by donating a portion of the profits to homeless dogs in animal shelters.
Create It, Inc is based in Minneapolis, Minnesota and offers its products through discerning retailers.